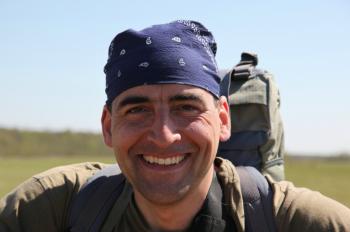 In life it's always worth to keep smiling, however sometimes it's difficult (photo by Anna Chodkiewicz)
A few words about me
I am an engineer and a man with a flair for technology. I respect the achievements of our civilization and value practical approach to everyday life. In 2000 I graduated from the full-time master's degree courses at the faculty of Geodesy and Environmental Engineering of the AGH University of Science and Technology and then in 2008 I completed full-time doctoral studies at the faculty of Environmental Engineering of the Cracow University of Technology. In 2009 I got doctoral degree in technical sciences and then started to work as a lecturer and a scientist in the Institute of Engineering and Water Management of the Cracow University of Technology, Poland. Although I am an academic teacher in everyday practice, in my free time I try to write articles popularizing science, which resulted in over 130 publications in the field of engineering and environment protection as well as ecology. However those who think that I am a typical "scribber" would make a big mistake. Nothing of the kind. When only there is a chance I set off and try to gain as much as possible practical experience because I do not want my modest expertise to became only futile theoretical knowledge.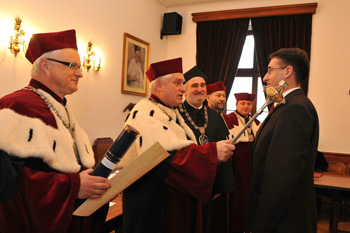 Official promotion of doctors in the Senate Hall of the Cracow University of Technology, autumn 2009 (photo by Jan Zych)
Professional interests
My professional life is mainly devoted to potamology which is the scientific study of rivers in the context of water ecology. Although nowadays scientists are forced to choose narrow specializations, I do not follow the mainstream and try to be as interdisciplinary as possible in my domain. Therefore my interests focus on both natural aspects of river ecosystems and technical means supporting up-to-date river engineering, such as for example one-dimensional mathematical modeling of surface water quality. Currently I am conducting research aimed at evaluation of ecological state of rivers according to the requirements of the European Union Water Framework Directive. They are based on two separate scientific methods. One of them is the British River Habitat Survey which serves for assessment of hydromorphological state of river channels and valleys and the second is the Polish Method for the Macrophyte-Based Assessment of Rivers which enables to determine fertility of water courses due to the use of aquatic plants as bioindicators of the level of pollution with biogenes.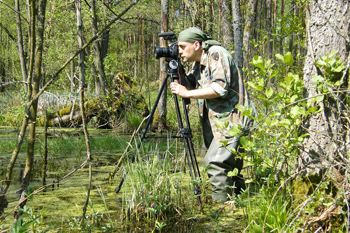 Wildlife photography sometimes requires sacrifices, e.g. entering in waders into a marsh full of bloodthirsty gnats (photo by Anna Gorska)
Pleasant and useful hobby
I am naturalist and photographer by avocation. I am wild nature lover who likes to calm down far away from human settlements and detach from our more and more noisy civilization. I like wandering around forests and climbing mountains, feeling fresh puff of mountain wind on my face, or kayaking among inaccessible wetlands and open peatbogs, where in complete silence songs of tooting birds can be listened. These wonderful moments I try to capture with my camera with various results. Although my free time is shrinking I always manage to find a reason for getting away from the daily life and even for a while set off on a backpacking tour. Somewhere there wildlife always waits for me.